Maybe you've heard the old saying "Don't look a gift horse in the mouth" but still, don't you ever wonder why a store would lower prices at exactly the moment when people are really looking to buy? It's the start of the holiday shopping season—it's not as if people really need more incentives to buy presents. Unlike summer and winter sales when stores are trying to get rid of old stock to make room for newer products, Black Friday sales usually offer hot ticket items that are in high demand. What gives? Why would a store willingly lower its margin?
The real value of your smartphone
If you take a look at the second-hand market, the answer is hidden in plain sight. As a marketplace that helps buyers find the best refurbished electronics, our company, Back Market, has sold a whole lot of refurbished smartphones ($240 million in 2018 alone). Based on the data that we've collected from the millions of transactions that we've processed in the EU over the past 5 years, we have some insight on Black Friday deals, at least when it comes to phones.
Using the average selling prices of our most popular phones, what we see is that a used phone is discounted by 9% from its release price and it loses 2.8% of its value every month. This is what that looks like in a graph.
So when should you buy your smartphone?
There is some seasonal fluctuation of course, and March seems to be the best month to buy refurbished (though the price difference doesn't seem large enough to make it worth holding out for) but what it basically means is that the market prices smartphones based solely on their age, weighing how many months of estimated usage are left on each specific phone model. If the iPhone 7 was certain to stop working after exactly 20 months, the prices for that phone would look very different than they currently do.
While the 'invisible hand'  is fixing the price on the secondary market, with Big Box stores, and manufacturers like Apple and Samsung, it's the marketing department that arbitrarily fixes their prices, and they aren't going to adjust to reflect the "real" value of their phones every month. At Apple they only change prices once a year, so you shouldn't buy an iPhone in August because you'll be paying at least an extra $100 than you would in September after their new releases. That'll teach you not to drop your iPhone during the summer.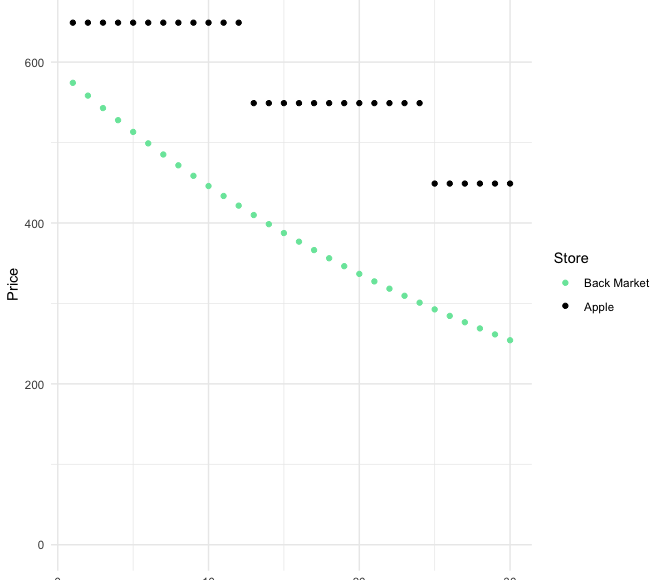 Buying new means getting screwed 90% of the time
And so, going back to Black Friday—it turns out that it's just the time of the year when large retailers and manufacturers adjust prices to better reflect the decreasing value of their stock. You aren't really getting a deal, but the good news is that you're at least getting (close to) what you're paying for. The bad news is that for the rest of the year, if you purchase a new phone (that isn't the latest model) you're definitely getting screwed.