Beyond the beautiful mountain landscape visible on the desktop by default, there's an intuitive operating system with a user interface that's a lot easier to understand than you may have previously thought.
With the top 10 Mac tips that we've found for you, you'll become a Mac expert in no time at all – just like the team from Back Market that came up with this great list!
1. Perform Unit Conversions In Spotlight
Beyond being able to do calculations in Spotlight, there's another trick you can do using Yosemite: unit conversions. You can perform specific unit conversions when needed.
Enter "$1299" and you'll immediately know how many euros it is. Then when the window opens to reveal more results, you'll see what the conversion is in pounds sterling, yen, and so on.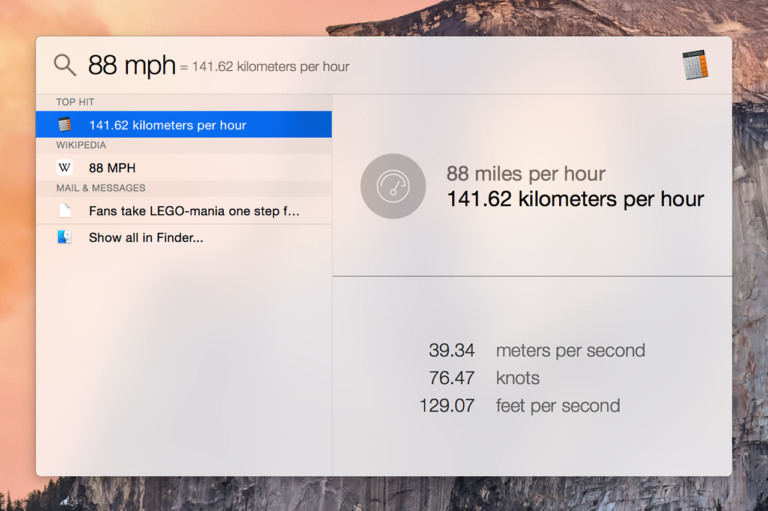 2. Talk To Your Mac And It Will Do What You Ask!
You can use the same Siri function that you're used to using on your iPhone, either by pressing and holding the Command + Spacebar, or by clicking the icon on your Dock or Menu Bar. However, this version of Siri is much more powerful.
Beyond the standard request that consists of asking for the weather or the results of a match, Siri on macOS Sierra can juggle between system functions like Wi-Fi or Bluetooth, or even pull up individual files stored in your system, based on the information you give it about the file.
3. Use Split Screen
With Split Screen View, it has become much easier to work with two windows or apps open side-by-side, using OS X 10.11 El Capitan. While right-clicking on the green app button in the upper left corner, you can drag it to the left or right side of the screen.
Then you'll need to choose a second window or open app to put on the opposite side of the screen. By moving the separating line between the two apps, you can make each of them bigger or smaller, which can be useful for keeping an eye on live information, like game scores, while still being productive.
4. Sign Documents
In OS X 10.7, Preview now has the ability to add your signature to documents. To get started, go to the Signatures tab in Preview preferences and click on the +. Now, sign your name in black ink on a piece of white paper and hold it in front of your Mac's webcam. Line it up and click "Accept." (Make sure you check "save this signature" if you want to use it again in the future).
Now open a document that you want to sign, bring up the editing toolbar, and click on the signature icon – it looks like an S on a line next to a lower-case X. Draw a rectangle to place your signature on the form. You can also scale and reposition it.
5. Share Your Passwords And Credit Card Information
If you have more than one Apple device – whether it's a Mac for work and one for home, a Mac and an iPhone, or two iOS devices – then it's advantageous to activate the iCloud Keychain. This allows you to keep your usernames and passwords for websites in Safari, your credit card information, and Wi-Fi network information synced across all your devices.
For example, you can quickly connect to a site on your Mac by saving the password on your iPad, or automatically enter your credit card information on an iPhone by saving it on your Mac. This is a little hard to configure, but it's worth going through a little difficulty beforehand, in order to make your life easier later.
6. Remotely See Someone Else's Screen
A simple way to see someone else's screen or even control their Mac on the internet – which is essential when helping a family member solve computer problems – is to launch Screen Sharing, by searching for it with Spotlight, and then entering the Apple ID of the person you are trying to contact. (If someone doesn't know how to do this, have them look in the iCloud menu in System Preferences.
And while there, have them make sure Screen Sharing is enabled in the Sharing menu of System Preferences.)
The other person will be asked to give you permission to see his screen, and then he can also click on the screen sharing icon in the menu bar and give you the opportunity to virtually control his mouse and keyboard remotely.
7. Store As Much As You Want In The iCloud Drive
With Sierra, you can now drop all the files you want either to the Desktop or to the Documents folder, in addition to the iCloud Drive icon in the Finder sidebar, and these files and folders will be synced automatically.
All of these files will be synced to all other Macs that you are logged in to with your Apple ID (as long as you've enabled iCloud on them) and will also be available on icloud.com.
8. Limit What Someone Can Do – And When!
Parental Control is simple in OS X, but there are many options – some of which are also useful for things other than prohibiting access to minors. You can limit disk usage to a certain amount of time every day, schedule a "bedtime" after which users will not be able to use the computer, limit the features of Finder, control which apps a user can use, and much more.
9. Transfer Files From Your Mac To Your iPhone
Keep in mind that if you have a modern Mac that has Bluetooth 4.0 and a recent iOS device (such as an iPhone 5 or later), you can easily send files from your Mac to your iOS device using Airdrop.
The fastest way to do this is to right-click on the file you want to send and then choose Airdrop from the Messages menu, and then choose the device you want to send it to. (First, you need to have Airdrop enabled from the Control Center on the iOS device).
10. See The Activity On Your Mac With Activity Monitor
If you find that your Mac is running slowly, or fans are running at full speed when you aren't doing anything very intensive, you can see if there's a possibility of finding the cause of it.
Launch Activity Monitor from the Utilities folder to see what processes are running, and what resources they are using. The columns give you access to information such as how much of the CPU a process is using or the amount of RAM it's using. If there's a process that's using up resources and you're sure you don't need it, you can stop it by selecting it and then clicking on Quit.